High School Students: we will have a short SFTD Square Dance Meeting on Tuesday, Feb. 7 at lunch in the library. Square Dance practice starts Sunday, Feb. 12 from 4:00 - 6:00 p.m. at the high school. All HS students are welcome to come and dance!

Grace Gardner and Madison Huffman competed in the Tri-Peaks League Championship Swim Meet this weekend. Grace placed 3rd in the100 freestyle, 3rd in the 200 backstroke, 7th in the 200 freestyle relay, and 9th in the 400 freestyle relay. Madison placed 20th in the 100 freestyle, 18th in the 100 breast, 8th in the 200 Medley relay and 7th in the 200 Freestyle relay. Next weekend at the 3A State Championship Meet, Grace will compete in the 100 Freestyle and 100 Backstroke. Both girls will swim on the 100 Medley Relay Team.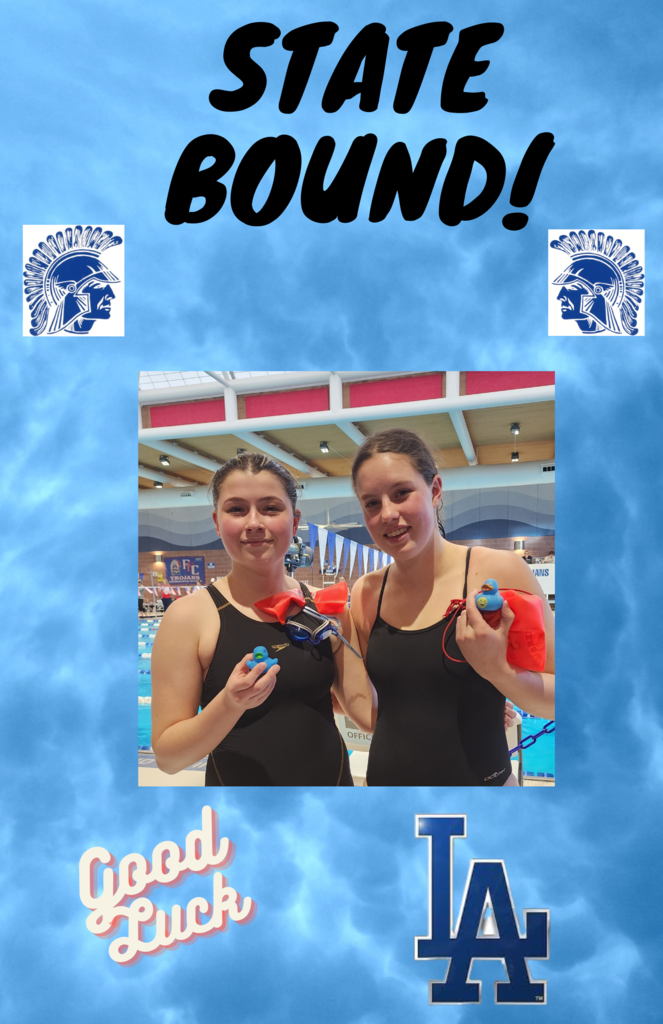 Feb. 5 JH & HS Announcements;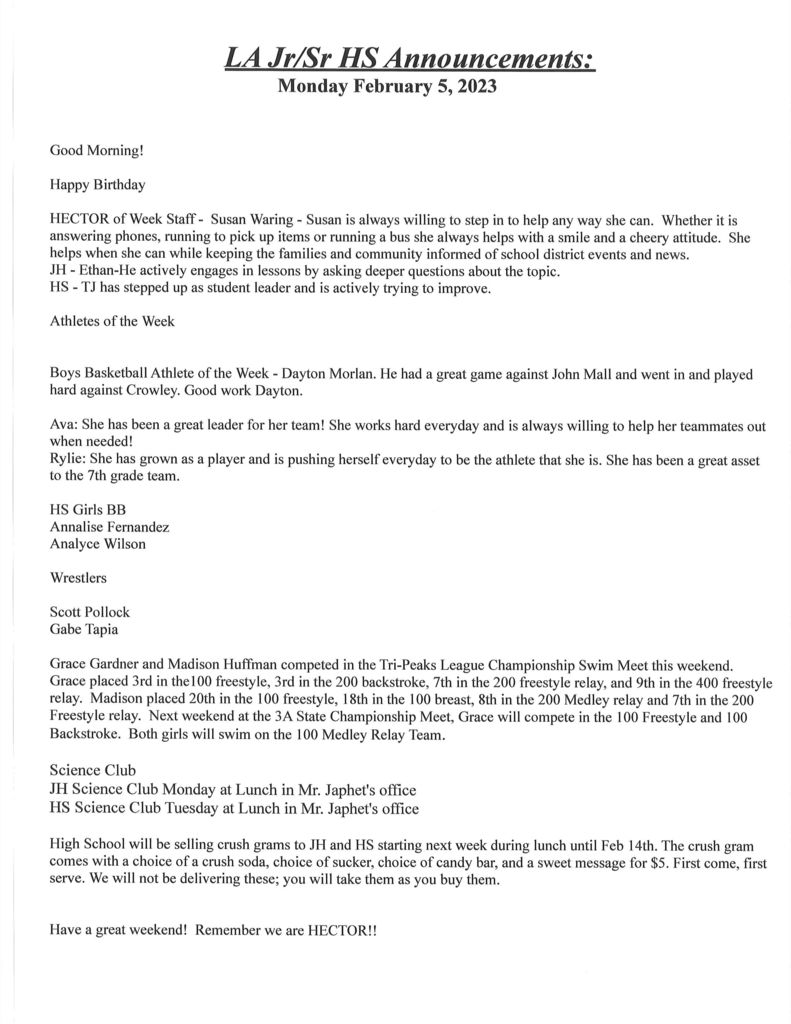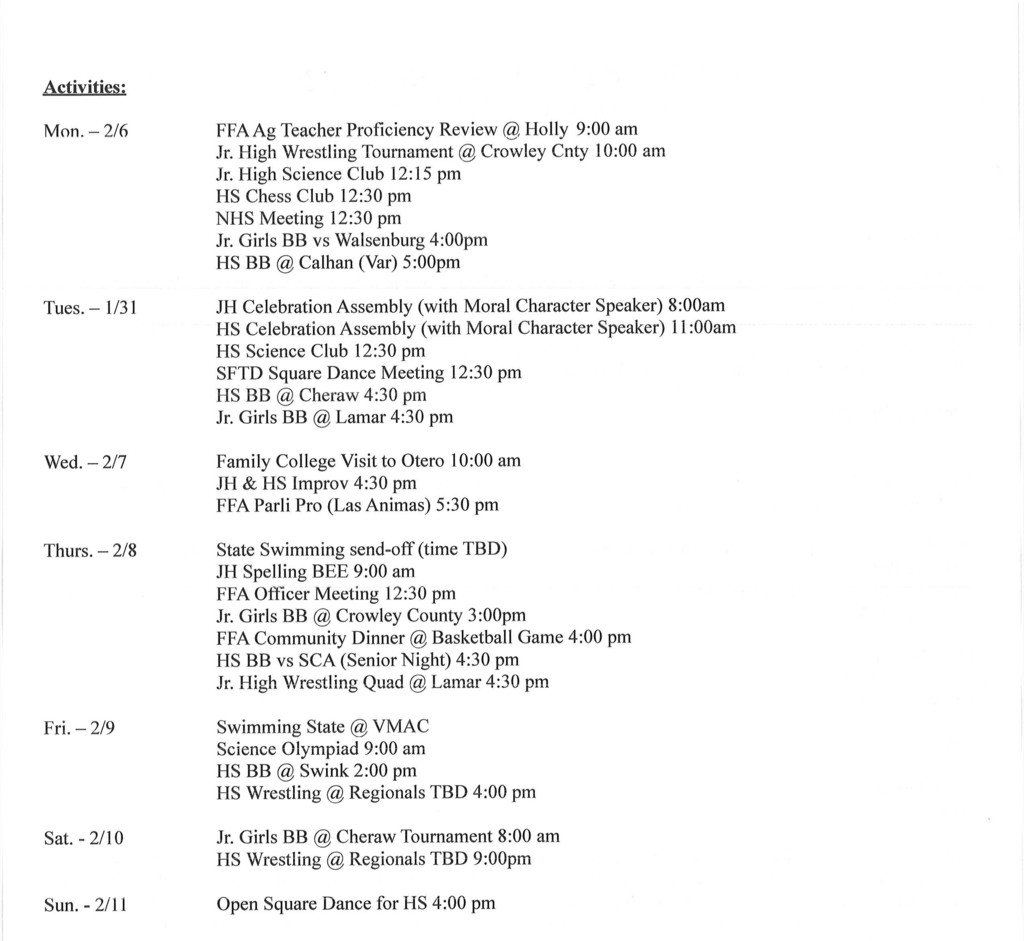 Parents/Guardians and Community Members: You are invited to a meeting & dinner at the high school on March 15. We would like to share some of the great work going on in our school district! FREE meal - please RSVP to Susan Waring (details on flyer) by March 1st if you plan to attend.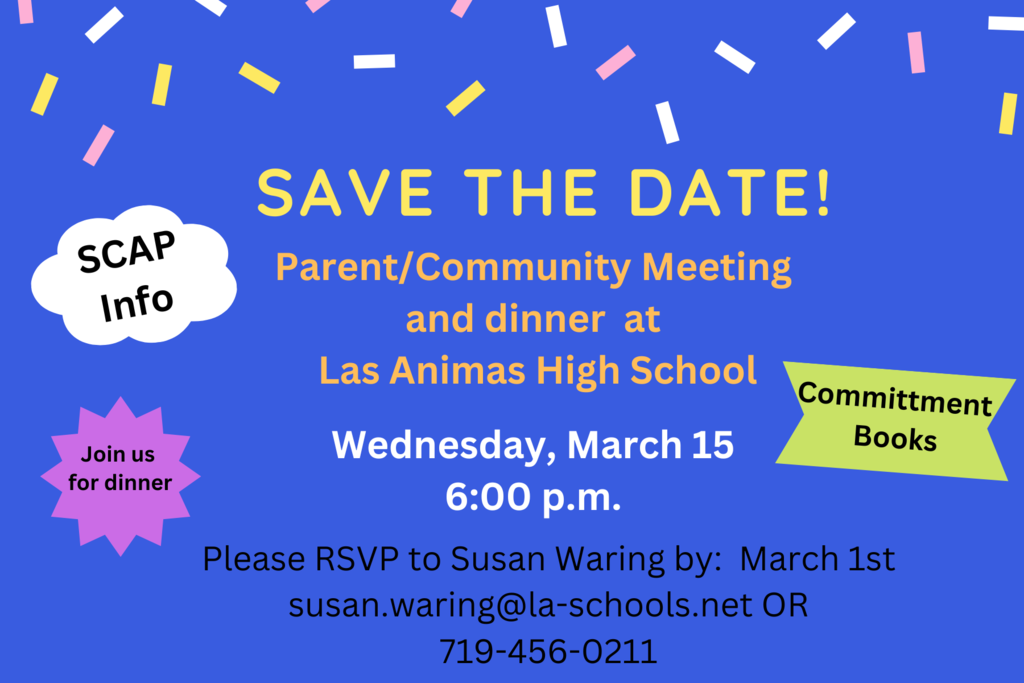 Grace and Madison earned Heat Winner Ducks in preliminaries at the Tri Peaks League Meet! 👏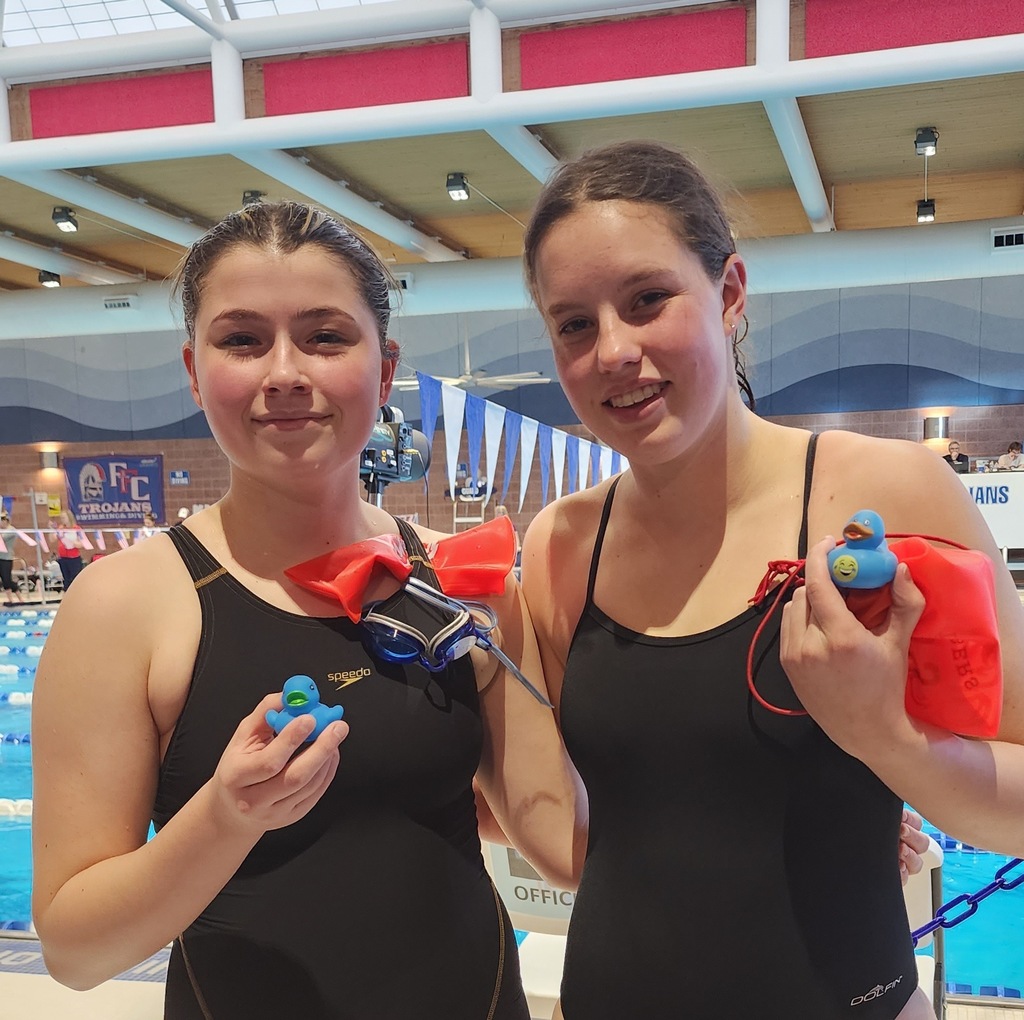 Mrs. Japhet's class celebrated Read Aloud Day with their book, In the Year of the Boar and Jackie Robinson.--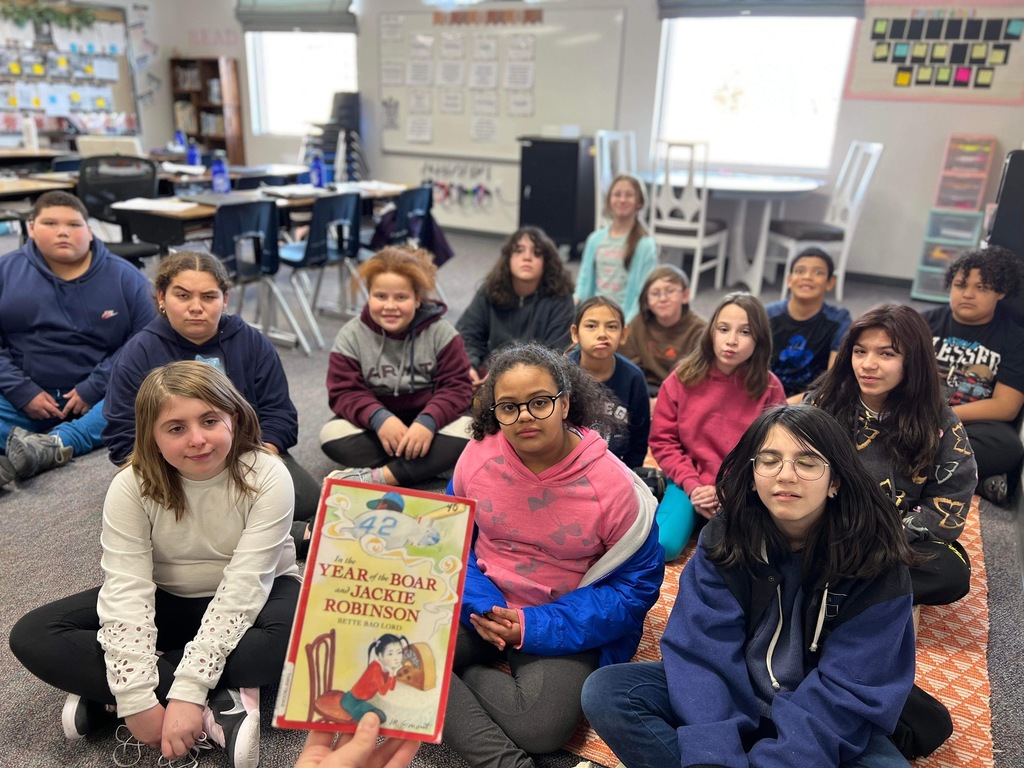 JH & HS Students - Crush Grams start on Feb. 6th at lunch! 💟

Science Olympiad will meet Friday at 9 am in Ms. Pointon's room.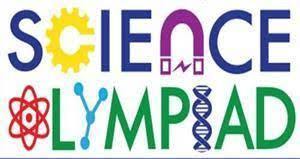 Changes to today's basketball games: High School vs. John Mall will be played in Las Animas today. Girls Varsity 5:00 p.m. and Boys Varsity at 6:30 p.m. both in the high school gym. (varsity only) Junior High girls 7th and 8th grade game will be played at the elementary school starting at 4:30 p.m.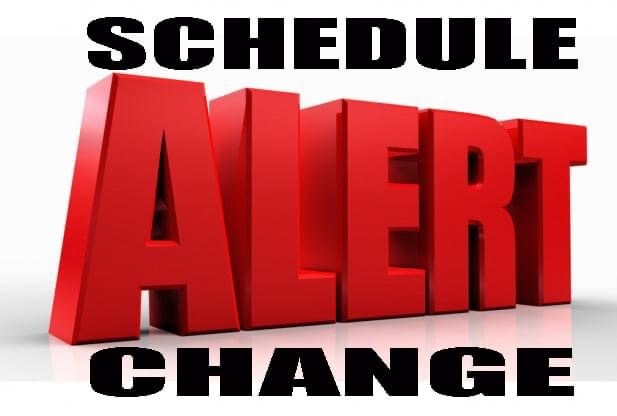 Las Animas FFA students at District Leadership and Quiz Bowl yesterday.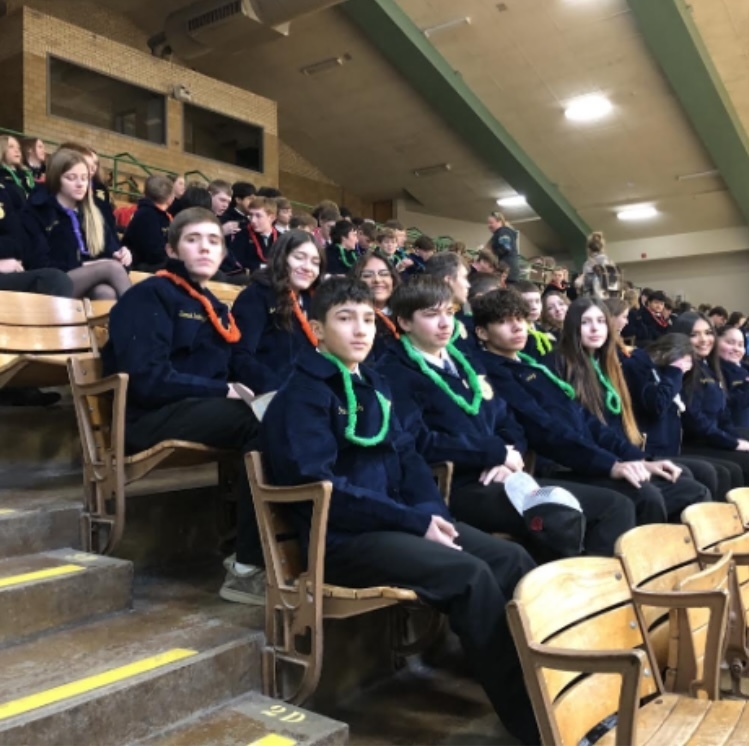 Mrs Laurent's 1st grade class earned lunch with Mrs. Gardner for Attendance Counts!--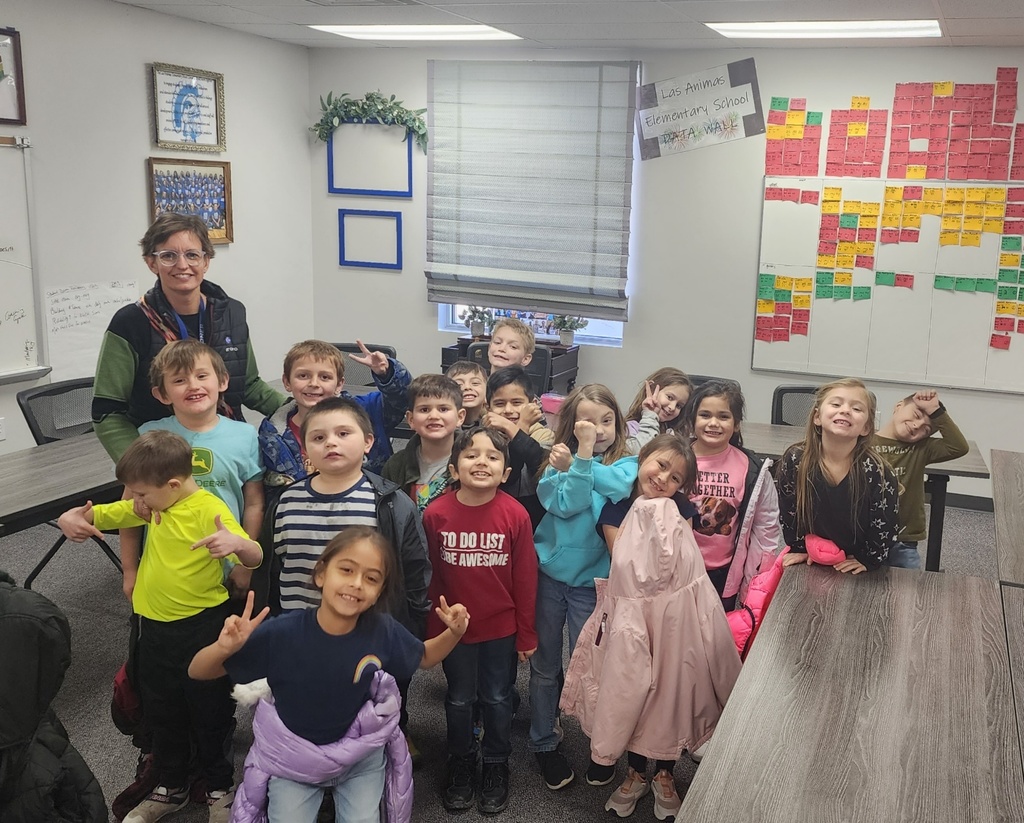 Recycle with the High School True Blue Club! Every 1st and 3rd Saturday of the month. Located in the garage in the Community Center parking lot.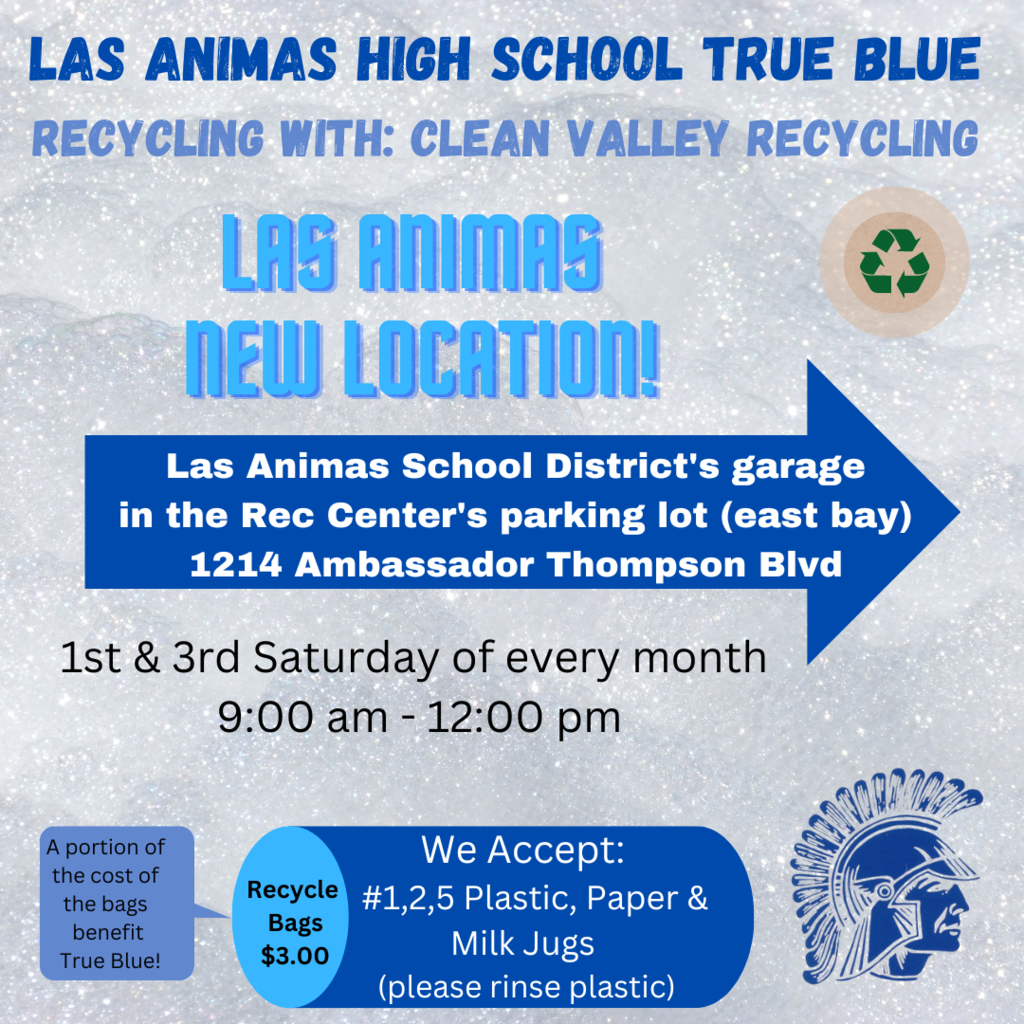 The start time up for next Thursday's (2/9/23) junior high girls basketball game in Crowley County will now start at 3:00pm.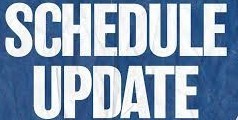 Jr. High Students - sign up in the library for the Spelling Bee on February 9 🐝

Good to Las Animas FBLA at today's district competition at Otero College! They are sponsored by Mr. E.J. Gallegos.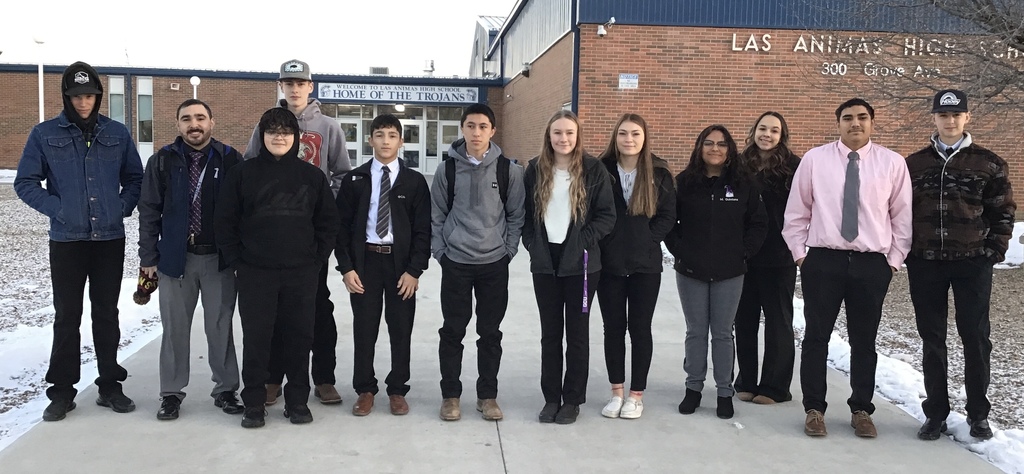 January is School Board Recognition Month! Our board members were recognized at last night school board meeting - please help us thank them for their hard work and dedication! #LAAllTheWay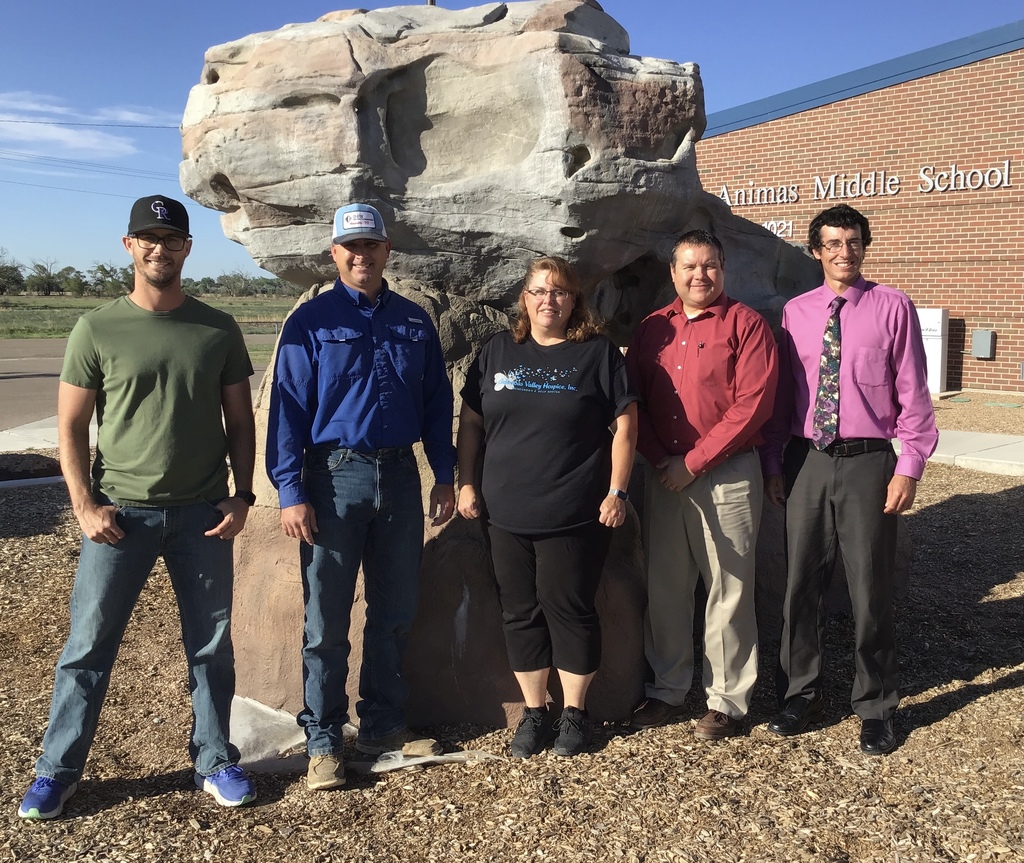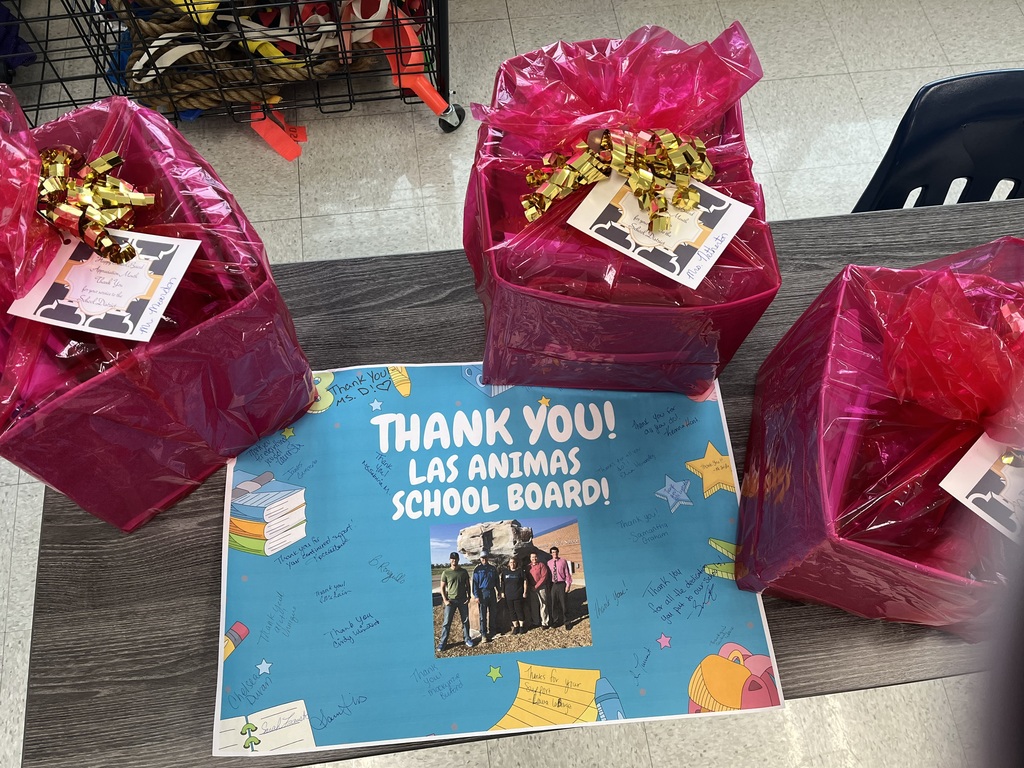 Winter Sports 2023 Class Places 1st: Seniors with 100 Points 2nd: Freshmen with 60 Points 3rd: Juniors with 59 Points 4th: Sophomores with 31 Points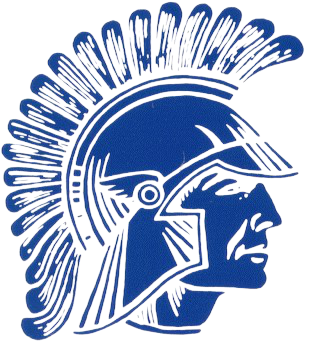 Congratulations to the 2023 Winter Sports Prince & Princess: Prince: Darian Mondragon, Princess: Alexis Vigil. Darian was "crowned" this morning at breakfast since he was at wrestling on Saturday when royalty was announced.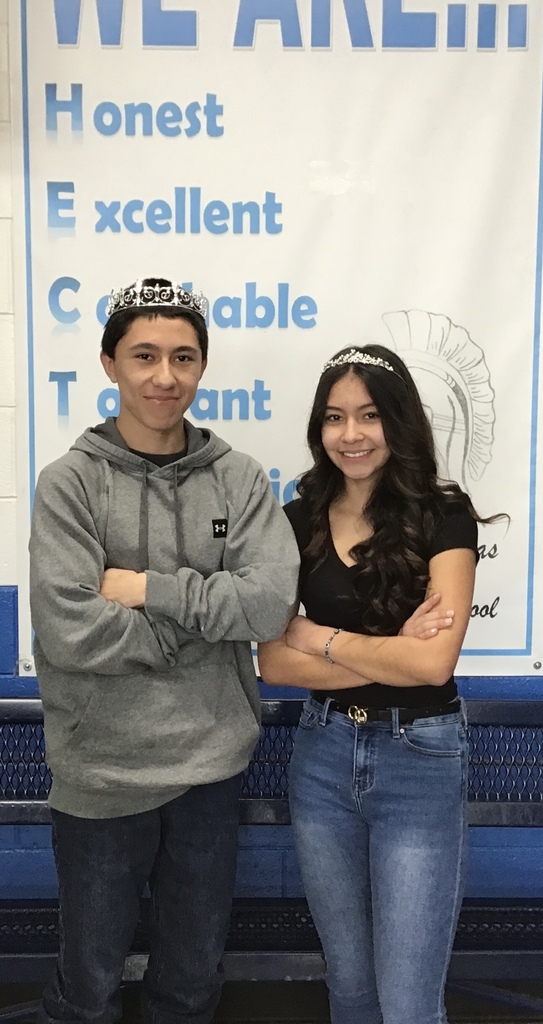 JH & HS Announcements for Jan. 30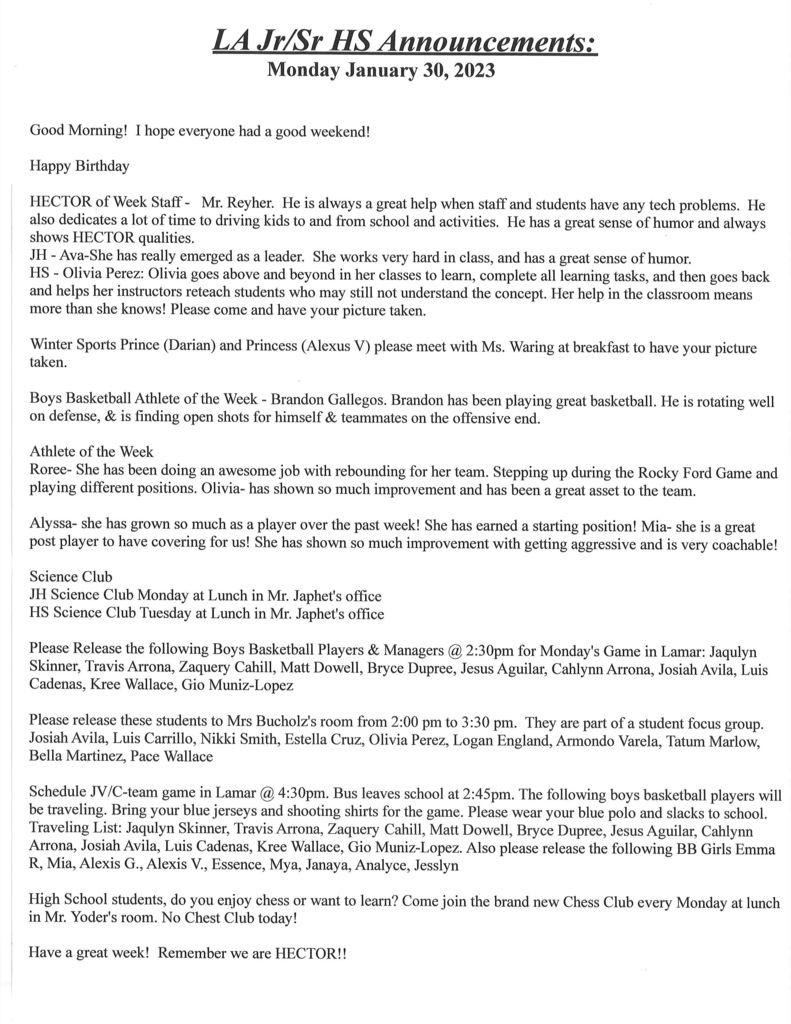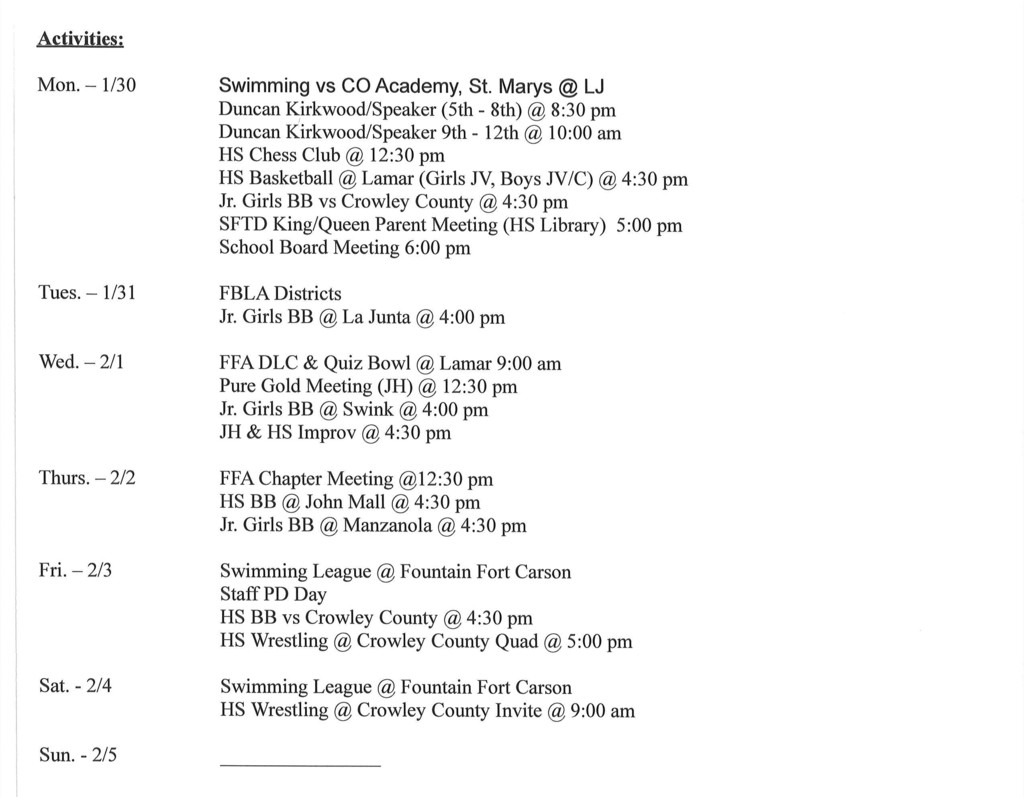 8th Grade Fundraiser: